United Nations is an international organisation. United Nations was founded in Year 1945, two years before Indian independence and after world war 2


Purpose of United Nations
To Maintain international Peace and Security
To Promote economic and Social Development
To protect Human Rights
Original Members (When Founded) – 51
Present Members – 193(Latest addition in Un South Sudan July 2011)
Headquarters New York
History of United Nations (Why it was formed)
After world war 2 all the nations were in ruins and desperately wanted peace
50 Countries gathered in San Francisco in 1945 to sign a document called The UN Charter, which created an Organisation and The United Nations was formed
The Charter was signed on 26 June 1945 by the representatives of 50 countries. Poland signed it later and became one of the original 51 Member State.
Charter came into force and The UN officially came into existence on 24 October 1945.
The UN day is celebrated on 24 October.
The fore runner of UN was the League of Nations.

The League of Nations was created after world war 1, with the same motive to maintain world peace, security and Protect the human rights.

The League of Nations was Established in 1919 Under Treaty of Versailles

The International Labour Organisation (ILO) was also created under the Same Treaty of Versailles as an affiliated agency of the league

The League of Nations failed to prevent the World War 2, and hence ceased its activities.
Important Facts about UN
The name United Nations was coined by the then US president Franking D. Roosevelt.
The Term United Nations was declared first time on 1 January 1942 during second world war.
Original UN Logo was created by the team of designers in 1945 led by Oliver Lincoln Lundquist.
Official languages of UN- Arabic, Chinese, English, French, Russian, Spanish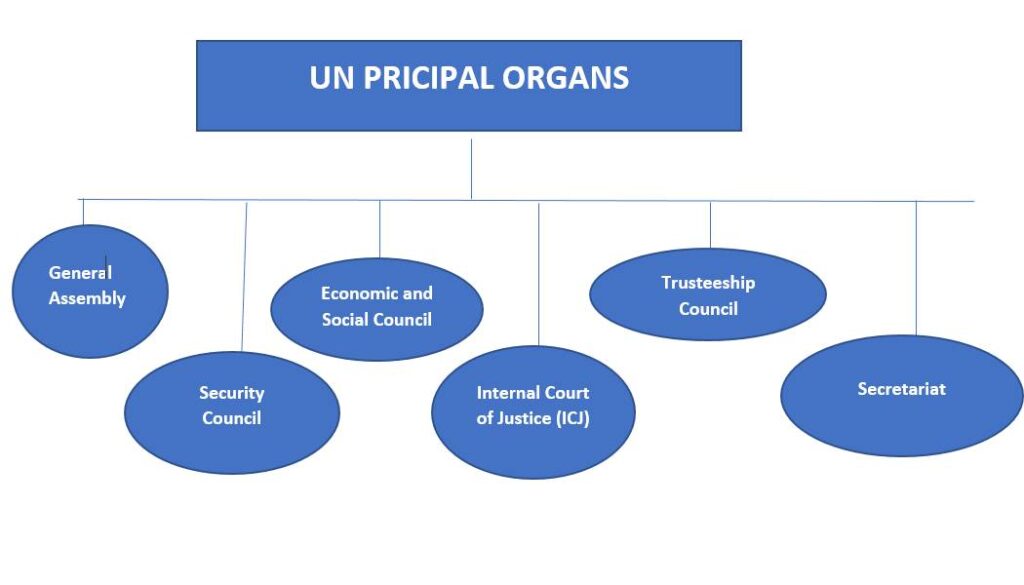 GENERAL ASSEMBLY
Main Deliberative, Policymaking and Representative organ of UN
All 193 members represent in General Assembly (Only UN body with universal representation)
Located in New York
Meets each Year in the month of September
Elects a General Assembly President each year
Add a new membership of States in UN – by a decision of General Assembly upon recommendation of Security Council.
SECURITY COUNCIL
The Role of Security Council is to maintain international peace and security
Takes lead in determining existence of threat to the peace
Located in New York
President is the head and changes every month on rotation basis
Total members 15 (5 permanent and 10 non-permanent- for 2 Year)
Each Member has one Vote
5 permanent Members include – China, Russian Federation, France UK and United States and have a Veto Power
Veto Power: refers to the power of permanent member to veto (Reject) any resolution of security council
Economic and Social Council (EcoSoc)
UN's Central platform for reflection, debate, and innovative thinking on sustainable development
Works into 3 dimensions of sustainable development economic, social, and environmental
Also responsible for follow up to major UN conferences and Summits
Members – 54
Located in New York
president is the highest power
Trusteeship Council
It was established to provide international supervision to 11 Trust Territories and to promote their advancement towards self-governance or independence
Trust territory is a non-self-governing territory placed under an administrative authority by the Trusteeship Council of UN
Aims of Trusteeship Council got fulfilled by 1994, when all the Trust Territories attained self-government or independence, either as a separate state or by joining neighbouring independent countries.
Trustee Council suspended operations in November 1994 a month after independence of Palau- last remaining trust territory
International Court of Justice
Principle Judicial Organ of UN
ITs role is to settle legal disputes submitted to it by states and to give advisory opinions on legal question
Composed of 15 Judges elected for 9 Years elected by Un General Assembly and Security council
Located in Peace Palace in Hague (Netherlands)
only Principal organ of UN not located in New York (USA)
its official language is French and English
ICJ is the successor of the Permanent Court of International justice, which was established by the League of Nations in 1920
The Secretariat
All the paperwork happens here
Comprises Secretary Genera and tens of thousands of UN staff members
Contains various departments having distinct actions and responsibilities
Secretary General is appointed by the General Assembly for 5 Year, renewable term
Secretary general is the chief Administrative officer and the Head of the Secretariat
Located in New York